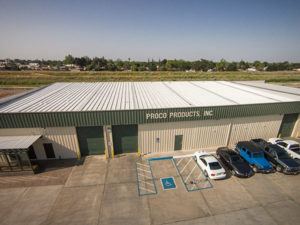 Proco Products, Inc. is the global leader in the design and supply of expansion joints for piping/ducting systems. For over 35 years, Proco has prided themselves on offering the most complete line of products to suit a variety of applications. Some of these products include rubber and molded PTFE expansion joints, and braided flexible hose assemblies.
Also available from Proco Products, Inc. are the Series 700 ProFlex™ rubber duckbill check valves.  These valves are commonly used in the water and sewage industry. Rubber check valves are a cost effective way to control back pressures from sewage treatment plants, outfalls and tidal operations. All Proco check valves are manufactured completely with a top quality barnacle and algae resistant rubber.
Proco is involved in several technical and trade organizations, such as the FSA (Fluid Sealing Association – Rubber Expansion Joint Division and Non-Metallic Ducting Expansion Joint Division). One of Proco's own, Rob Coffee, VP of Sales & Marketing, is a part of the FSA Board of Directors and serves on technical committees to ensure its continued development of proper expansion joint design for industries served. Other associations that Proco is proud to be a member of are NAHAD (National Association of Hose and Accessory Distributors), WEF (Water Environment Federation), AWWA (American Water Works Association), IDCO (Industrial Distributor Co-op) and the Cooling Tower Institute.
Proco Products, Inc. operates worldwide through a global agent and distribution network providing a wide range of products and services. This allows them to service the customer during all phases of a project regardless of location. Proco's main goal is to provide superior service to the demanding marketplace. Quality and service will always be Proco's highest priority. With more than $3 million in inventory, Proco maintains one of the largest stocks of product in North America. For pricing and availability on the appropriate expansion joint or check valve for a particular application.
History
Our manufacturing history of expansion joints dates back to the old Uniroyal Company, who invented the rubber expansion joint back in 1930.  When reflecting on that history, the first thing that comes to mind is our founders, Gene Johnson and Merv Vater. They were business partners, friends and firm believers that in business you have to "work harder and smarter than your competitors."  Johnson and Vater met in 1972 while working in the expansion joint industry. Several years later Gene was working as a distributor of expansion joints for manufacturers, PROtective Coatings of Fort Wayne, IN. Protective Coatings manufactured rubber expansion joints for Uniroyal under a private label arrangement from 1965 to 1979. During Gene's affiliation with Protective Coatings, Merv approached him with the idea to buy the company.  Together they made the purchase, changed the name, and thus Proco Products, Inc. was established.
Proco Products, Inc. (previously PROtective COatings of Fort Wayne, Indiana) began marketing rubber expansion joints under its shortened name, PROCO, in 1980. In 1984 Proco Products acquired all assets of Protective Coatings – including tooling, specifications and technologies used in producing rubber expansion joints – and remains the sole property of Proco Products, Inc. today. And since 1984, Proco has been a place that many loyal employees have been proud to call home.